The highly anticipated 2020 edition of IPL has been started from September 19, previously planned to be held on March 29. You might be googling how to watch IPL live streaming as this event is not taking place in India this year.
We are here with all the details on watching IPL in the USA and the complete info about the official digital streaming partner for IPL matches. Can you guess the name? Yes, I am talking about Hotstar.
Hotstar IPL is the official partner of this tournament. They have announced that they will bring an in-stadia experience for everyone at their home.
Everyone in India does know about Hotstar because it comes with many beneficial features at a low price. Anyone can afford its subscription, and now it is popular in India and America, the UK, and Canada.
If you live in the USA and look for a platform where you can watch IPL live Streaming, then stay with us; circumstances have changed since 2019. We will discuss how to watch IPL in the USA and how you can subscribe to Hotstar. Let's start!
Why Hotstar is the Best Option for IPL?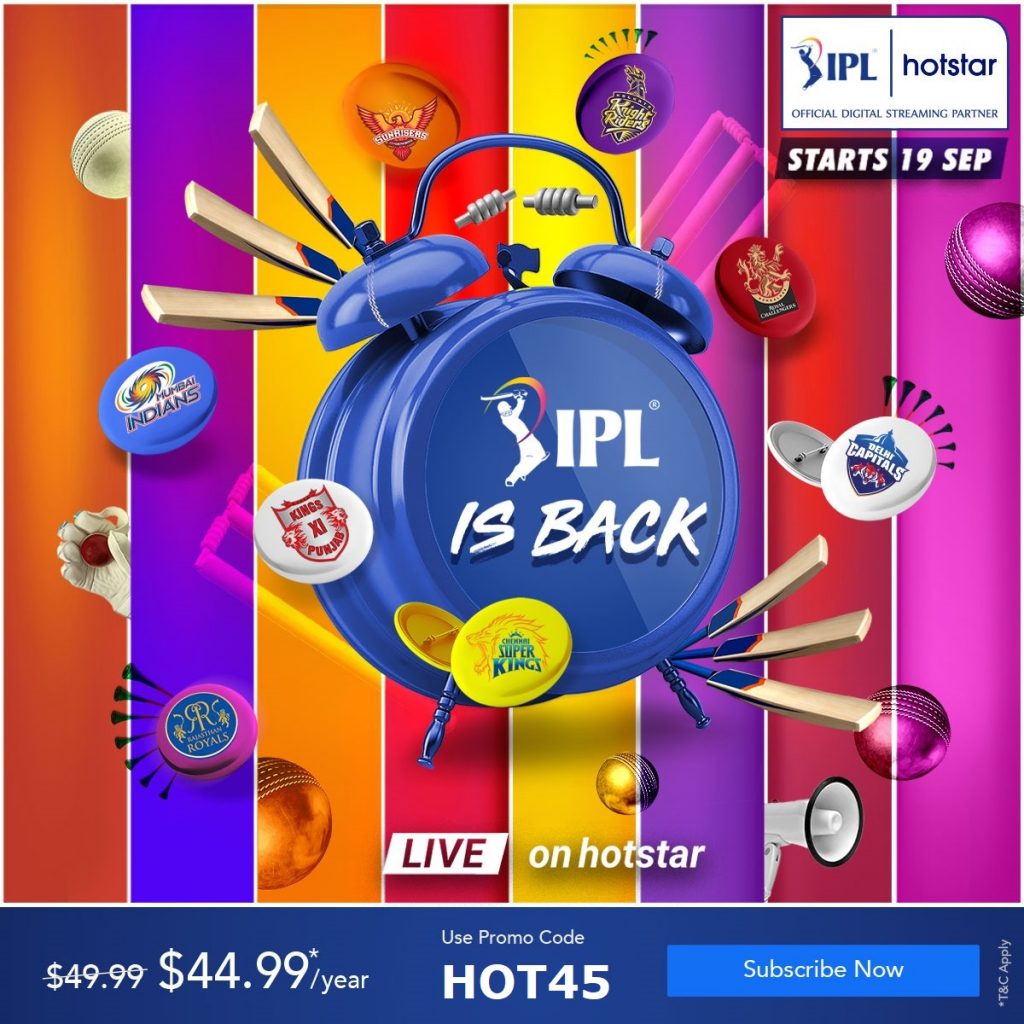 There are a lot of extraordinary features that make Hotstar the best option for IPL live Streaming. Let's discuss some of these top-notch features.
Commercial Free Streaming
You might witness many annoying ads during a crucial moment in the match, especially the match's death overs. Hotstar subscribers will not be facing any commercial during a game as it is ads-free. Now sit back and support your favorite game.
Live Commentary With Different Languages
What if you can watch IPL live in different languages except for English? Now, select any of the available languages and enjoy live commentary. This feature will make your entertainment a lot more exciting.
The live commentary will be available in six languages, and you can choose your favorite language to watch IPL 2020. These languages are Hindi, English, Tamil, Telugu, Kannad, and Bengali.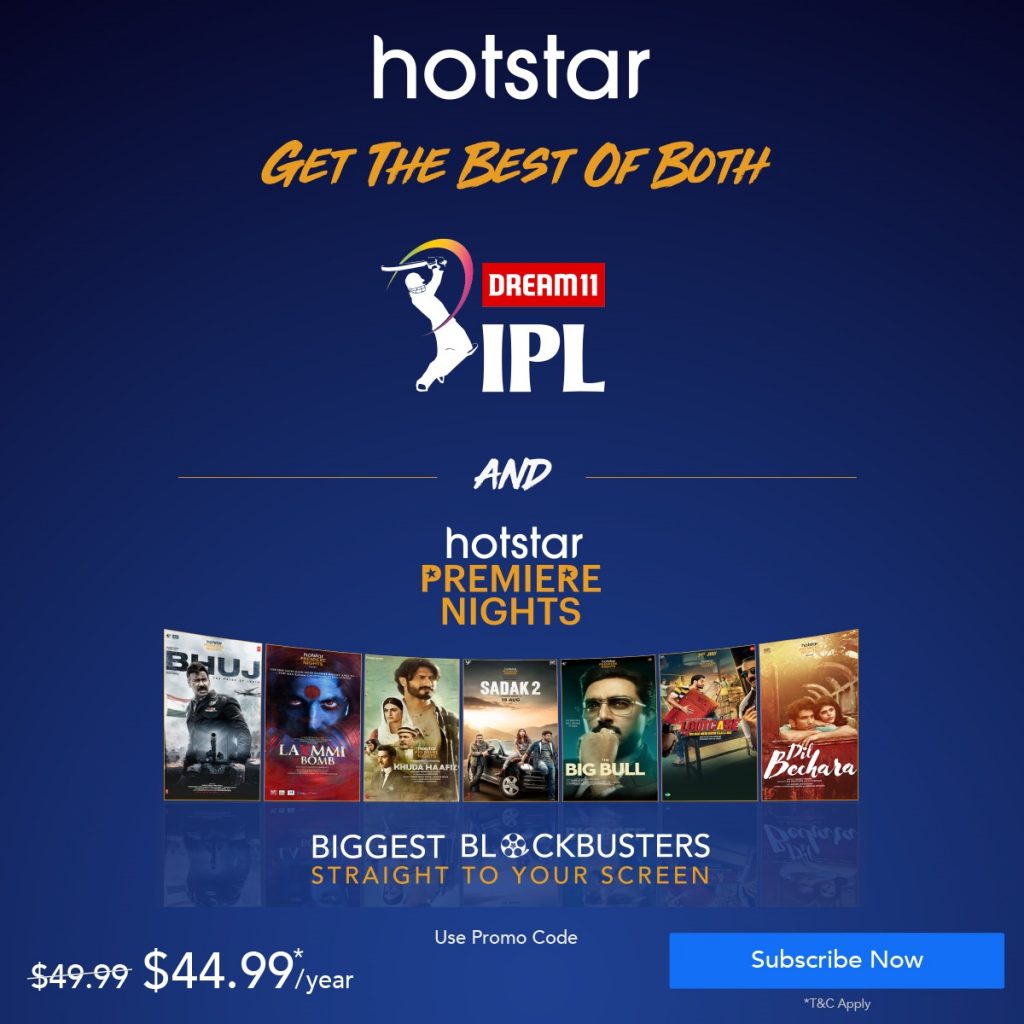 Mobile Optimized and Video Playback Option
Hotstar has made streaming a lot easier for everyone, especially mobile users. Their edge-cutting technology provides mobile-optimized videos with adjustable video quality according to your Internet bandwidth.
It also provides video playback options, just like YouTube. You can playback live Streaming anytime if you got late due to your busy schedule.
Particular Highlights With Match Analysis
Match highlights will be available on Hotstar after the match. You can watch the fall of wickets, game-changing moments, and short highlights of every game.
Cricket expert from different regions will be giving their expert opinion and match predictions. You can watch all pre and post-match analyses exclusively on Hotstar.
Some New Features for IPL Live Streaming:
This year, Hotstar's streaming platform has added a few new features for its watch and Play feed. It allows its users to share "excitement and support" during live matches. IPL fans will be using emoji streams and supporting their team with "Hotshots selfies."
There will be another new video feature know as Duets, by which subscribers will be able to make custom videos with the shot reaction of your favorite cricketer.
How to Watch IPL from the USA?
Till 2019, the USA's people had a Platform known as Willow TV, where they can stream online all the matches, but this year Willow didn't manage to get the rights for broadcasting IPL 2020 live. So, the question is, "how to watch IPL in the USA?" Well, Thanks to Hotstar. They will hold the rights of streaming IPL live this year, and there is no better option than Hotstar.
What is the Venue for IPL 2020?
Indian Premier League, aka IPL, is taking place in UAE, with Sharjah and Abu Dhabi are hosting the tournament. The tournament's starting date was September 19, and the Final will be taking place on the 10th of November.
All matches have been scheduled to play in the following stadiums:
Dubai International Cricket Stadium in Dubai
Sharjah Cricket Stadium in Sharjah
Sheikh Zayed Cricket Stadium in Abu Dhabi
How to Subscribe to Hotstar in the USA?
New users who want to enjoy IPL live on Hotstar have to subscribe to it. The subscription for Hotstar IPL is straightforward and comes with single plans, i.e., Annual Subscription. You can choose the Hotstar promo code: HOT45 and get Flat $5 Discounts. Most people prefer the cancel Hotstar renewal plan with a $69.99 price and then renew with Promo: HOT45 and only pay $ 44.99. It is very economical when you compare it with Hotstar competitors.
Go to US Hotstar and click on "Start Subscription."
Signup with and provide details like name, email, or you can directly signup through Facebook.
Choose your plan.
Add your payment details, and Promo: HOT45
Click on Subscribe Button, and now you are ready to entertain yourself with Hotstar on 2 streaming devices.
New subscribers will also get a free trial for 48 hours, and if you cancel your Hotstar subscription during your free trial will be free. Subscribers in India will get a month free trial. In contrast, the USA, UK, and Canada residents will get a seven-day free trial.
Conclusion:
This year, IPL will be epic, as fans have to wait for a long time due to COVID-19. The stage for IPL is all set, and Hotstar is also ready to entertain its subscribers. So, subscribe to Hotstar IPL and watch your favorite players from around the world fighting for the prestige title.