The 2023 Indian Premier League is officially underway! Hardik Pandya and the Gujarat Titans officially began their title defense with nine other teams, including KL Rahul's Lucknow Super Giants, looking to dethrone the reigning IPL champions.
IPL fans can safely and securely stream every match throughout the 2023 campaign with an ExpressVPN subscription. Whether you're searching for free live streams or hoping to tune into streams from around the world in different languages, look no further than ExpressVPN!
In this guide:
1. How to watch IPL 2023 live streams for FREE with a VPN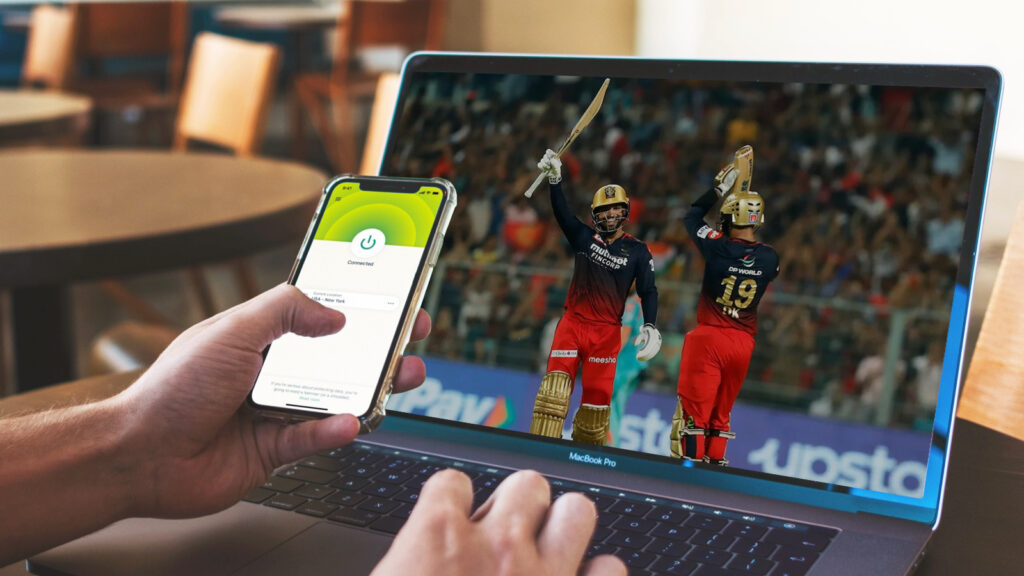 ---
Before we fully walk you through your streaming options, here's a quick guide on watching IPL matches for FREE with an ExpressVPN subscription.
Connect to a server location that matches the broadcaster you want to watch. For example, if you'd like to see the Indian broadcast, connect to a virtual India server. ExpressVPN boasts high-speed and ultra-fast servers in 94 countries, including India, Bangladesh, and Singapore.
Check the schedule of the broadcaster you want to watch, like JioCinema or NOW, and find the event you want to watch.
Enjoy the cricket!
ExpressVPN works on every device, including smartphones, smart TVs, and gaming consoles.
2. How to stream the IPL for free on JioCinema
Now that you've purchased an ExpressVPN subscription (or taken advantage of their 30-day free trial), you're ready to live stream IPL matches. If you live in India, you must look into Reliance Jio, which will offer free live streams of every cricket match in the 2023 season. The JioCinema app (Android, iPhone) lets you watch IPL games free in 4K resolution, enjoy the action from multiple camera angles, and check live scores. Commentary is also provided in 12 languages, including English, Tamil, Hindi, Telugu, Marathi, Gujarati, Bengali, and Bhojpuri.
All of that sounds great, right? Well, you'll need an Indian phone number in order to sign up for a JioCinema account.
3. Where to watch IPL 2023 live streams with free trials
If you're unable to watch cricket matches through JioCinema, have no fear! Several streaming services with IPL matches offer free trial services and don't require any verification.
Kayo Sports is an Australian sports streaming service that lets you live-stream every game from the 2023 IPL season. You read right! Every match from the IPL season is available to stream on Kayo, which also offers other cricket tournaments, as well as AFL, football, and more. New customers can get a 14-day free trial; prices start at 25 AUD/month.
NOW (UK) is the perfect way to stream 11 Sky Sports channels online contract-free, including all 74 games of the 2023 IPL season on the Sky Sports Cricket channel. Not only does NOW offer a seven-day free trial, but you can even opt for a day pass (12 GBP) if there's a specific can't-miss match on the docket. A monthly subscription will run you 33 GBP.
Cricket fans will be happy to know Yupp TV has the rights to stream IPL matches live for viewers in over 90 countries, including Australia, Sri Lanka, Nepal, Japan, and much of Europe, Central & South America, and Southeast Asia. A 14-day free trial is available, which means two free weeks of IPL action! After that, you're looking at monthly (10 USD) and yearly (100 USD) rates, with a six-month plan (60 USD) also available.
4. Stream IPL matches on DAZN UK
DAZN UK will show every IPL game from the 2023 season through to the end of the 2027 season, so you're covered for the foreseeable future! Fans in the UK can watch IPL live streams—from the league stage to the playoffs and final—on its site or through its mobile apps. Suppose you don't live in the UK, though. You can subscribe to DAZN using PayPal, guaranteeing you all the IPL action you could ever want. However, DAZN does not offer a free trial, so you'll have to choose between a monthly plan (10 GBP/month), a "flexible month" plan (20 GBP), or the yearly rate (100 GBP).
What to know about the 2023 IPL season
Now that we've covered where you can safely and securely stream IPL matches with an ExpressVPN subscription, here's everything you need to know about the new cricket campaign!
What is the Indian Premier League (IPL)?
Formed in 2008, the Indian Premier League (IPL) has grown into one of the most popular men's T20 cricket tournaments. Seven of the league's original 10 teams are still around, with the Sunrisers Hyderabad joining in 2013. The Gujarat Titans and Lucknow Super Giants debuted in 2022.
How do IPL teams choose their players?
Teams in the Indian Premier League (IPL) must have a minimum of 18 and a maximum of 25 players—with a maximum of six overseas players.
Which IPL team should I root for?
Great question! Although newer clubs are often fun to root for, the Titans won it all in their debut season, so the plucky underdog angle is already gone. A similar premise applies to the Super Giants, who finished third in the points table as a first-year club. How about the Punjab Kings? After winning 10 games in their first season, the Kings have only notched a single winning record—a 12-5 showing in 2014—since then.
Related:
---
Disclosure: This is a sponsored post. We may have received compensation or other forms of remuneration for posting this content. Our commitment to our readers is to provide informative and valuable content, and all opinions expressed in this article are our own. For more information about our sponsored content guidelines, please visit our disclaimer page.