Instagram is set to launch Threads, a Twitter alternative. The Threads by Instagram app has recently been listed on App Store and Google Play Store. While another live listing on Google Play lacks a specific release date, the App Store page hints at the official launch date for Threads to be July 6, 2023.
What is Threads by Instagram?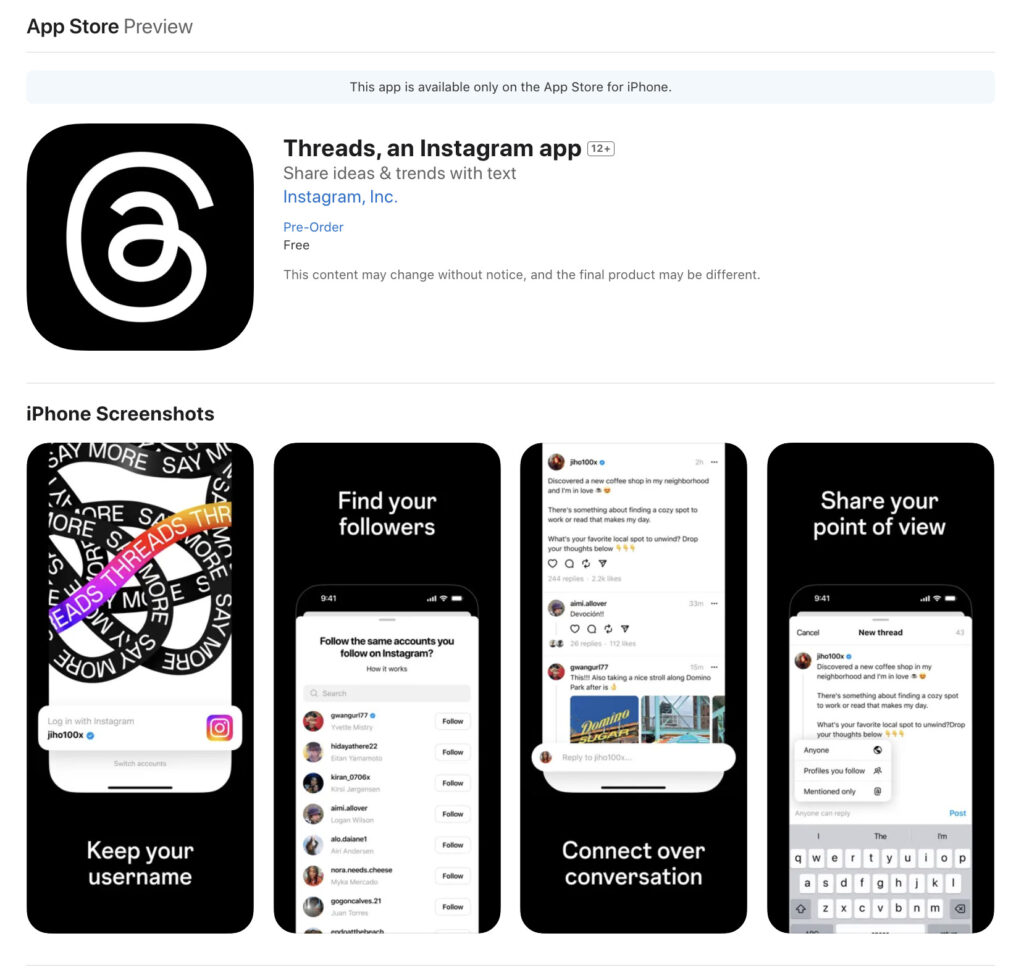 According to the App Store listing, Threads, an Instagram platform is for fostering discussions within communities. Users can engage in conversations, from current interests to future trends. By following and connecting with favorite creators or like-minded individuals, users can actively participate in sharing ideas, opinions, and creativity.
"Say more with Threads — Instagram's text-based conversation app

Threads is where communities come together to discuss everything from the topics you care about today to what'll be trending tomorrow. Whatever it is you're interested in, you can follow and connect directly with your favorite creators and others who love the same things — or build a loyal following of your own to share your ideas, opinions and creativity with the world."

App description via App Store
The screenshots on both the Google Play and App Store listings showcase the app's features, such as logging in with an Instagram handle, discovering accounts from Instagram, and posting in an interface reminiscent of popular text-focused social apps like Twitter, Mastodon, and Bluesky.
In a recent Meta companywide meeting, executives revealed plans for Threads to integrate with ActivityPub, the decentralized social media protocol used by Mastodon. According to The Verge, a Meta executive said in a meeting, "We've been hearing from creators and public figures who are interested in having a platform that is sanely run," which sparked discussions about a potential cage fight between Mark Zuckerberg and Elon Musk.
Elon Musk responded to the "sanely run" platform comment in a Twitter thread:
While the app will be available for download on July 6th, it remains unclear whether it'll be available immediately for posting and engaging with other creators. Meta may opt for a gradual rollout, so users should prepare for potential delays in fully embracing their new non-Twitter digital home. Please note that as per the screenshots, you don't need a separate account, instead, you can just use your Instagram username and start using Threads.
The allure of finding an alternative posting platform is understandable, considering recent drastic changes made by Twitter. The platform's recent policy of limiting tweet views for unregistered, registered, and Twitter Blue users has caused outrage and could impact the user base.
With the forthcoming release of Instagram's Threads, users seeking a fresh posting experience amid Twitter's restrictive behavior have the potential to reshape the social media landscape. Meta has a habit of copying and implementing features from other companies, such as Snapchat, Telegram, and TikTok. While Twitter remains a popular place for many, let's see how Threads can secure its place in this social media genre.